Introducing the Fall/Winter Collection
Autumn is well underway and it's high time to introduce you to our new Fall/Winter pattern collection! We have a completely new design, a re-release from the Tuesday Stitches collection and an updated best seller. All patterns go up to a 64″ hip. Let's start with the Coral Sweater & Dress!
The Coral is a fun sweater or dress perfect for playing with different colors or patterns. The design lines curve around your body like a wave, creating a playful look. You can use two to three different fabrics, or use the same fabric for all the parts and highlight the design lines with some flat piping.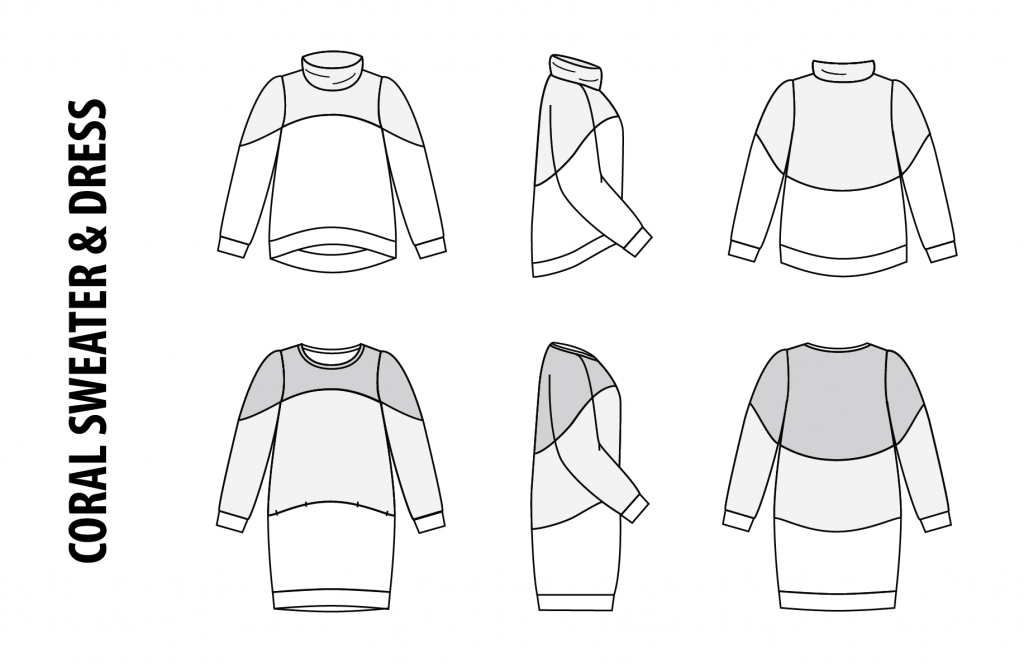 View A is a sweater with a high-low hem that sews up quickly. View B is a longer version that can be worn as a tunic with pants or as a dress with tights or leggings. The dress version has pockets set into the lower horizontal curved seam. The neckline can be finished with a neckband or with a collar for extra cozyness. Hems and cuffs are finished with ribbing.
The Citrus Leggings are a high-waisted, fitted leggings pattern meant for everyday wear under tunics or dresses (but we won't tell if you wear them as pants). They can also be sewn out of exercise material for a workout pant with personality.
Citrus Leggings are available with a plain side panel (View C) or a side panel with unique gathers. They can be placed along either the side seam with a smooth Front/Back (View A) or along the Front/Back with a smooth side seam (View B). The pattern includes 3 separate inseams (26" (66 cm), 29" ( 74 cm) or 32" (81 cm)) for an ankle length pant on short, average, or tall women.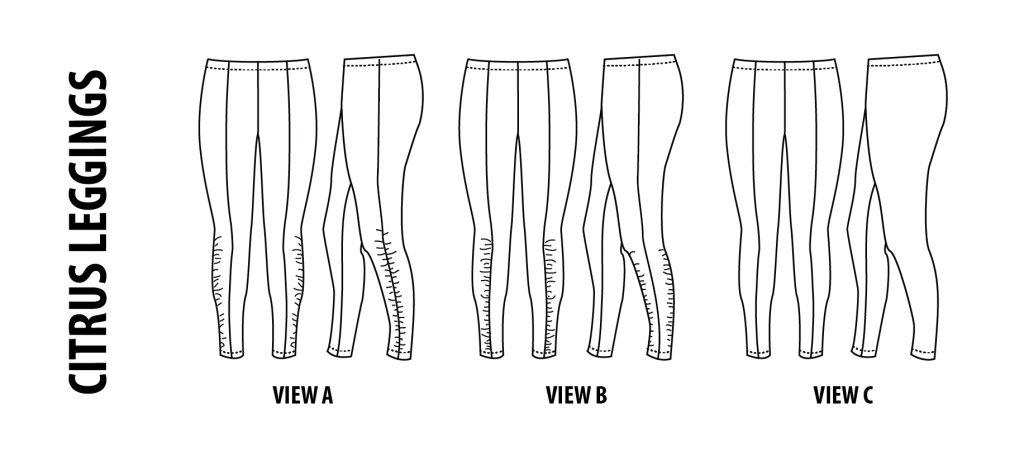 The Jasper is a comfortable sweater or dress with a semi-fitted cut. Designed with the cold seasons in mind, the Jasper is the perfect garment for snuggling up on the couch with a hot cup of something. Going out of the house won't mean changing though, the Jasper is comfortable and edgy.
This design features princess seams that give a closer fit than traditional hoodies. The single welt pockets are set in these side seams and connected by a tube pocket on the inside. Hem and cuffs are banded.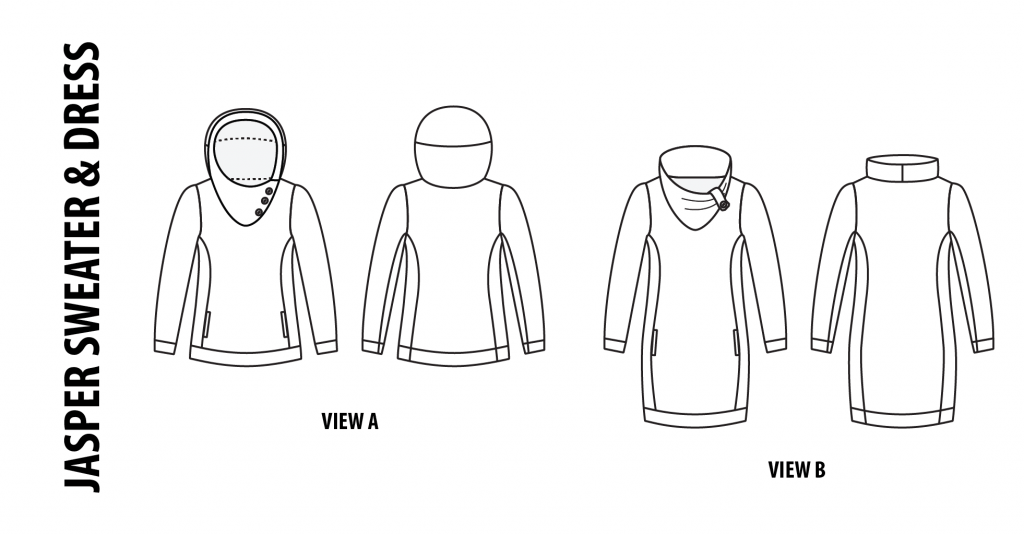 View A is a sweater. View B is a longer version that can be worn as a tunic with pants or as a dress with tights or leggings. There are two options for the neckline: a big asymmetrical hood or a big collar with an epaulet and button.
Sizing & updates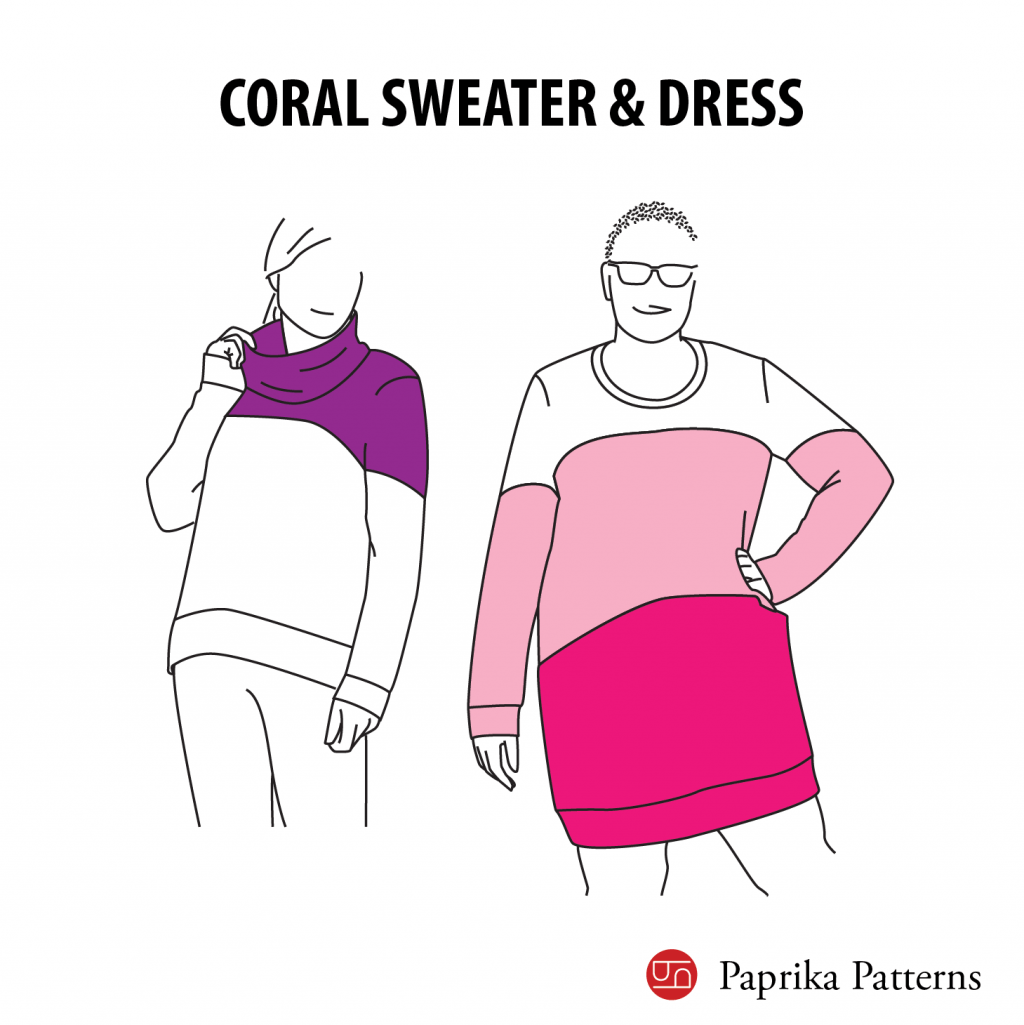 The Coral Sweater & Dress comes in two size blocks, A-G and F-M. The first set has been drafted for a B/C cup, the second set for a D/E cup. Even though it is a loose-fitting design, there is some bust shaping drafted into the design lines to create a better fit over the bust.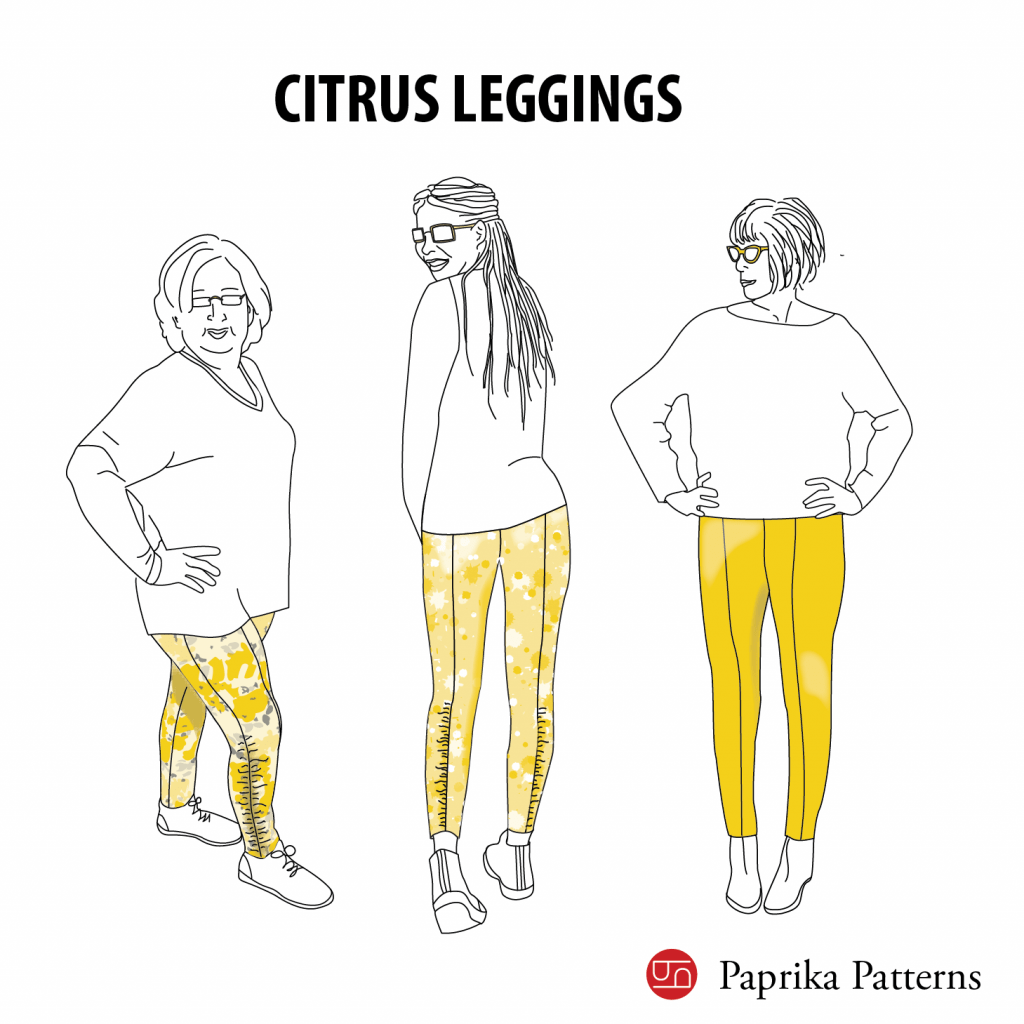 The Citrus Leggings are originally designed by Erin from Tuesday Stitches. At the time of its design Erin and I were business partners as well and I got to follow the design process and pattern development up close. She has put a lot of work into this design to make it accurate and well fitting! For this re-release 3 sizes have been added on the upper end to reach a hip size of 64″ (162 cm). The instructions have also had a make-over.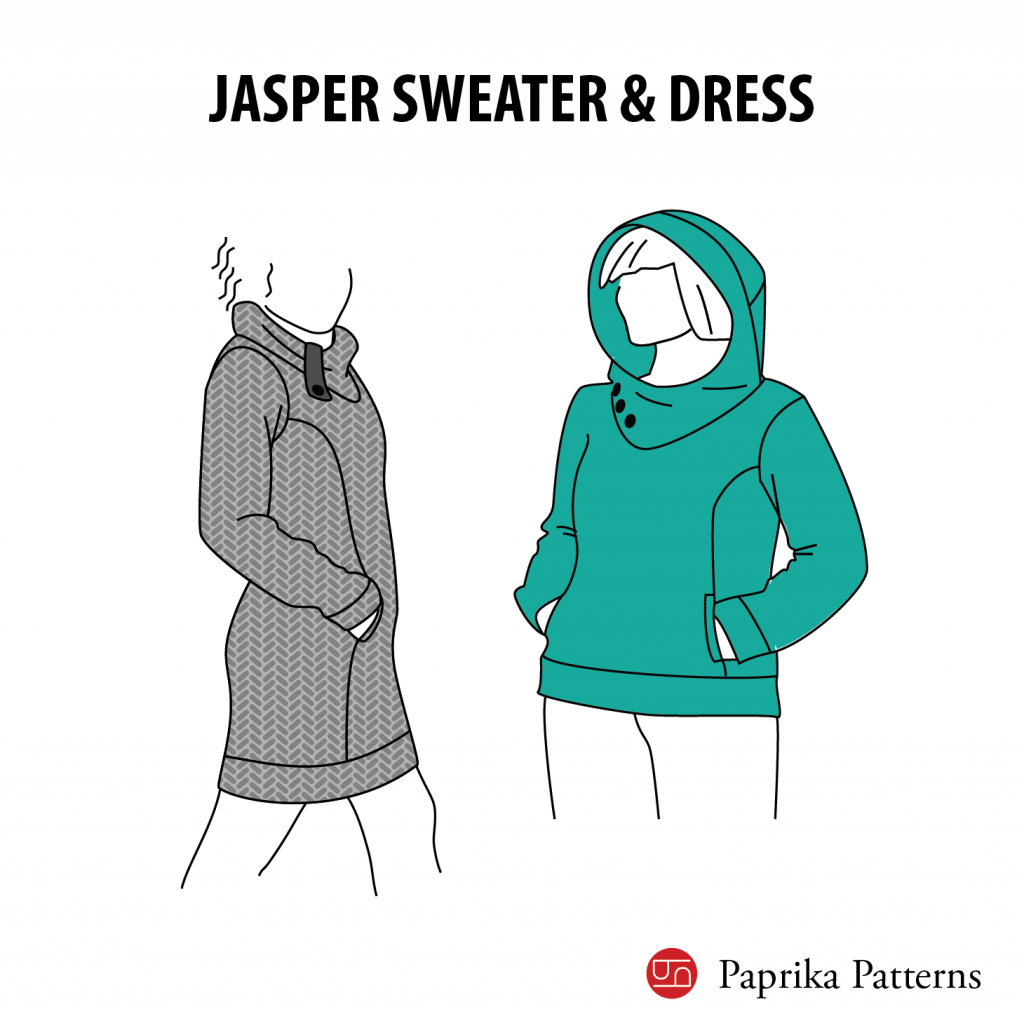 The Jasper Sweater & Dress was the second pattern I released back in 2015, and has been our bestseller ever since. It has seen some minor updates over the years, but for this release has had a major overhaul. It has been completely re-graded, and no less than 6 sizes have been added on the upper end, also going up to a 64″ hip (162 cm). The bust has also been re-drafted. The first size set size 1-7 is now drafted for a B/C bust, the second size set 6-16 for a D/E bust. This big upgrade makes this pattern available to a larger group of people and I'm really pleased with that. The instructions have also been re-organized so the information you need is easier to find.